The Umar Johnson Conspiracy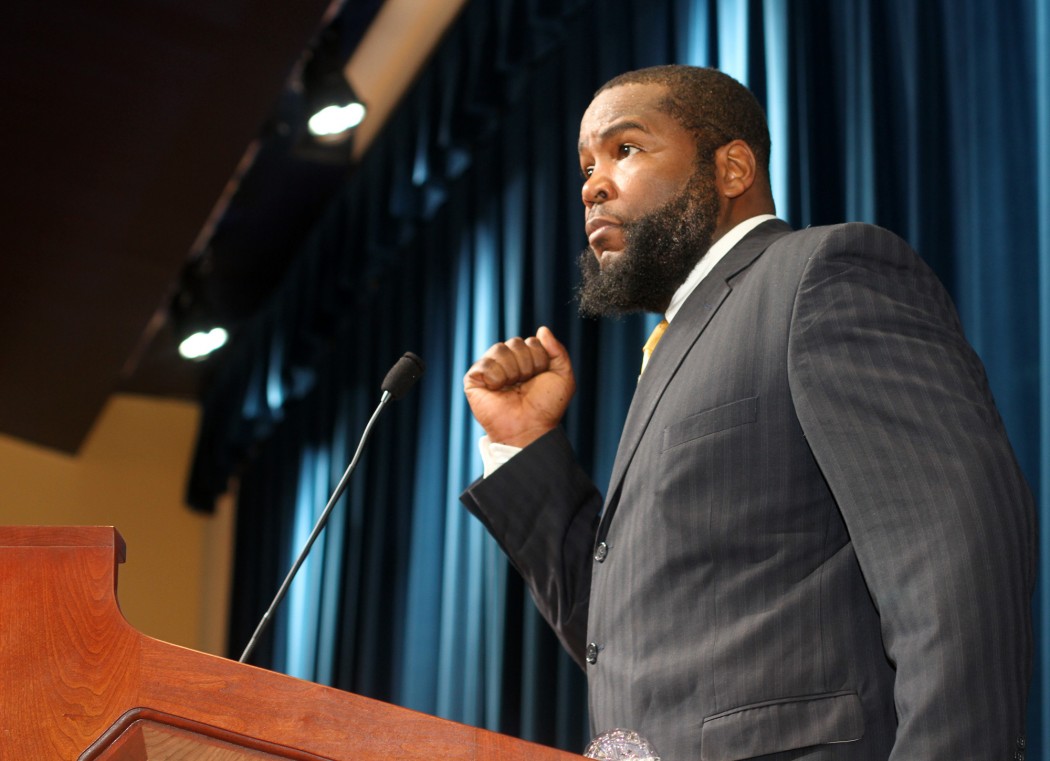 Dr. Umar Johnson (birth name is Jermaine Shoemake), highly requested speaker and former school psychologist, has finally acquired a location for the Frederick Douglass Marcus Garvey Academy. Johnson says he is aiming for an August 2020 open date for the independent fully black owned academy. He announced on February 09, 2019 that he purchased a school for $750, 000 cash (which was donated to him) in Wilmington, Delaware.
This is a big deal to people that have been following this story for updates. For about 5 years, Johnson has accepted donations for FDMG Academy. After many false promises, Johnson was quickly regarded as being a scammer.
Accusations and Johnson's Character
Johnson has been accused of not having a doctorate degree. Johnson has stated that he does not mention his alma maters because of the type of work he does. He has said that he does not want to give the impression that the schools agree with his militant stance. However, Johnson has stated the names of the colleges he obtained his degrees from. Below is a photo of a document that says Johnson was awarded his doctorate in on November 14, 2012 in clinical psychology from Philadelphia College of Osteopathic Medicine :
In 2015, Johnson was in the headlines for having relations with a stripper. This was a big deal because he had just stated in an interview with Roland Martin that he was celibate. This made him look phony and untrustworthy. He admitted that he had relations with the woman. She also provided text messages between she and Johnson.
In 2016, Johnson was accused of lying about being related to Frederick Douglas by Frederick Douglas' blood relatives. However, Johnson continues to state that he is indeed related to the Bailey/Douglas family because his "great great great great grandfather was Fredrick Douglass' cousin." Johnson also says that he attends the family reunions. Johnson is seen in several videos, however, stating that he is a direct descendant of Frederick Douglass.
In 2016, Johnson was also accused of being a dead beat dad. He was accused of not paying child support and had two child support cases against him by 2017. In a video post made by Johnson, he says the only way he was able to visit his 6 year old daughter was by "sitting on the couch at her grandmothers house." Johnson says he was unable to spend alone time with his daughter and because of that he refused to pay his child support. A dedicated father does what is needed to be done to be present in his child's life, right? Johnson has three baby mothers.
The School's Location
Ever since Johnson has announced the location of the school, the hate against him has increased. It seems that a majority of the people following this story thinks he is indeed a scammer and do not believe he really purchased the building. The years of broken promises has rubbed many the wrong way to point in which they will not be satisfied until the school is actually open and occupied with students, teachers and staff.
A guy on a YouTube channel titled Chief X, claims to be a former realtor and loan officer, and he says Johnson did not purchase the school and does not own the school. On his page, he shows a picture of the alleged deed and it shows the owners as K12 Management Inc as of April, 4 2017. He says they purchased it from the original owners for $1.9 million. He calls the people that believe Johnson actually purchased the school, "gullible idiots." He yells, "Don't believe a word out of Umar Johnson's mouth, EVER!" He believes Johnson has come up with another scam. He believes Johnson is now going to ask for donations to renovate the school with no intention of opening the school.
Has this guy even considered that the paper work involved in changing the name on a deed may take some time to update?
Adding more suspicion to the situation, Johnson's Go Fund Me page went under investigation and was shut down last year. Refunds for the school are currently being refunded via Go Fund Me.
Johnson's Character Continued…
Johnson was a member of the UNIA (Universal Negro Improvement Association). In 2005, he wrote a very lengthy resignation letter to the organization and he signed it:
YOUR BROTHER,
UMAR ABDULLAH-JOHNSON
THE MODERN DAY MALCOLM X
He refers to himself as the "modern day Malcolm X"? Malcolm X! Those are big shoes to fill. Malcolm was not only married to a respectable black woman, he was a respectable black man. You see, Malcolm had once lived the street life and that part of him was never displayed again. Once he joined the Nation of Islam, every time Malcolm was seen, he exhibited himself in a mature, prestigious and respectable manner. Malcolm was not involved in any scandals . In fact, like a man of integrity, he called wrong doings within his own organization. We cannot say the same about Johnson.
Johnson is a knowledgeable person. I've quoted him on this website. I'm not sure if this guy is a con artist or not, time will tell. His character, however, is questionable:
He takes a strong stance for uplifting the black family unit. This may be an old school ideology, but how can a man that is unmarried fight for the family unit? Johnson travels the world for speaking engagements, surely he meets respectable women, but instead he chooses to sleep with a stripper?
This is important to note as his school will be for young black boys. He stated in a recent interview with Acres of Diamonds that the school will be for boys grades 3-5 (he says this will change later). With all the hateful and sexualized messages against women nowadays, isn't it important for young boys to see a man in a healthy marriage?
Is Johnson a Con Artist?
There might be a conspiracy against Johnson. Perhaps there are people in high position that do not want to see Johnson's goals take action. On the other hand, he might be a con artist who has people in high positions working with him.
YouTube, unfortunately, is a good platform for con artists. They prey on the vulnerable, gullible and naive. Don't be fooled by the YouTube revolutionaries that are looking come up on the struggle.
Important Questions
Can a guy that does not respect women enough to commit to one teach about the black family?
Can a guy that lacks passion to see his children be trusted with running a school for boys? Is that someone you would want teaching your child about manhood?
Can a guy that has impregnating three women, married to none and has child support cases for non payment be trusted with teaching boys about manhood?
Johnson says he is "unapologetically African." Well, aren't Africans traditionally about community? Would our precolonial African ancestors run off on their children because they didn't get their way?
As stated earlier in this article, Johnson is a knowledgeable person. I've quoted him on this website. I'm not sure if he is a con artist or not. However, for someone that considers himself a modern day Malcolm X, his character is in serious question.
© 2011 – 2023 TheAfroLounge.com. All Rights Reserved. Unauthorized use and/or duplication of this material without express and written permission from this blog's author and/or owner is strictly prohibited. Excerpts and links may be used, provided that full and clear credit is given to TheAfroLounge.com, with appropriate and specific direction to the original content.