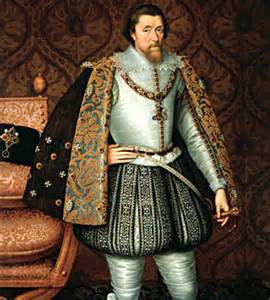 Originally posted on January 20, 2014
Was the man responsible for the King James version of the Holy Bible a homosexual who consistently cheated on his wife with men? According to historians, he was indeed gay. Letters to and from his male lovers reportedly still exist today. In this article, I present to you information I found when researching James Stuart.
James Stuart was born in June 19, 1566 at Edinburgh Castle. His parents were Mary Queen of Scots and Lord Darnley Henry Stuart. Lord Darnley was found murdered 8 months after James was born. His mother remarried, but was forced to renounce the throne of Scotland in favor of her son. James became King James VI of Scotland at age 13 months in July 1567. His mother fled to England and was executed following Catholic plots against Elizabeth I in 1587. When Elizabeth I of England died in 1603 unmarried, James moved to London and was crowned King James I. He was the first Scottish king to take England's throne.
James enjoyed great literature and arts. He was good friends with Williams Shakespeare, whose sexuality has been a subject of debate. He would often perform plays for James. Shakespeare commissioned the King James Authorized Version of the Bible, which was published in 1611.
James' English courtiers were wary of his affairs with male courtiers and his uncouth ways. Historians suggest James had several homosexual relationships. The three most talked about were with his second cousin, Esme Stuart d'Aubigny, a man named Robert Carr and George Villiers, Duke of Buckingham.
Esme Stuart d'Aubigny
James was thirteen when a homosexual affair started between him and his second cousin, Esme, who was visiting from France. Esme was 24 years older than him. James showered Esme with gifts and political power. Esme became a member of the Privy Council, Gentleman of the King's Bedchamber, and governor of Dumbarton Castle. As historian Carolyn Bingham noted, "He expected Esme to supply everything that he had always lacked and everything that he was now beginning to need: to be his family, his beloved, his friend, his mentor and counselor, and his constant companion." Esme had a wife and several children back in France. When his wife tried to relocate to Scotland, she was denied by James.
James eventually named Esme the "Duke of Lennox" making him the only "Duke" in Scotland. Esme's presence in Scotland caused a great deal of suspicion. James was kidnapped in August 1582 by lords who opposed Esme. They moved James to several towns so he would not appear to be imprisoned. Despite their efforts, James still would secretly send love letters to Esme. The lords instructed Esme to leave Scotland and the two never saw each other again. The two lovers wrote to each other until Esme's death in 1583.
In 1589 James married Anne, the daughter of Frederick II of Denmark and Norway. This marriage was James reportedly arraigned for political reasons. The two had never met prior to marriage. Years following, the two had a daughter and two sons.
Robert Carr
James met Robert Carr around 1603. Historian William McElwee wrote that James began to "treat Carr in public with the same exaggerated, gross affection as in private." The same as he did with Esme, James spoiled Carr with gifts and political power. In 1612, Carr became the Confidential Secretary to James and eventually the Earl of Somerset. Carr fell in love with Frances Howard, Countess of Essex. James reportedly supported their marriage and even paid for it. Carr and Howard married the day after Christmas in 1613.
Carr was not only having extramarital affairs with James, but also a writer named Thomas Overbury. James got word of Carr's relationship with Overbury and became jealous. He imprisoned Overbury to the tower of London. Overbury wrote letters to Carr asking him to help free him. He threatened to out their relationship if Carr did not comply. Overbury died of poising in September 1613.
Carr and his wife were charged with the murder of Thomas Overbury in November 1615. They were found guilty and sentenced to death in May 1616. The Carr's spent six years at the Tower. They didn't die there, but the relationship between Carr and James did. James granted the release of the Carr's in 1622. Carr and his wife moved to the countryside, where they spent the rest of their lives.

George Villiers, Duke of Buckingham

James and George met in 1614. Their relationship ran somewhat parallel to the one he had with Carr. When Anne died in 1619, James fell ill. Many of the letters James and George exchanged have survived today. In these letters, James often addressed Buckingham as "Sweetheart," and "Sweet child" and "wife," and signed himself "Thy dear dad and husband."
Buckingham stayed by James' bedside, but was away when James died in 1625. Buckingham was assassinated three years later.
James was buried between two of his lovers. On his left is the magnificent tomb of his lover George Villiers, 1st Duke of Buckingham (1592-1628); and on his right is the tomb (with huge bronze figures representing Hope, Truth, Charity and Faith) of his other boyfriend, Ludovic Stuart, Duke of Richmond and Lennox (1574-1624).
According to scholar Dr. Ashra Kwesi, the story of Adam and Eve was created to belittle women. For example, Eve and the forbidden apple. He also suggests the mother in "The Father, The Son and Holy Ghost" was removed from it's original saying, "The Mother, The Father and The Child".
Could this information be propaganda or is it one of many secrets the establishment has yet to release into the public?
Sources:
http://www.freewebs.com/jupiter1024/james.htm
http://rictornorton.co.uk/westmin.htm
http://www.ministers-best-friend.com/King-James-Homosexual.html
© 2011 – 2023 TheAfroLounge.com. All Rights Reserved. Unauthorized use and/or duplication of this material without express and written permission from this blog's author and/or owner is strictly prohibited. Excerpts and links may be used, provided that full and clear credit is given to TheAfroLounge.com, with appropriate and specific direction to the original content.